Life Coach Training Course.
This training course shows you how to use the skills and experiences you have accumulated during your lifetime – to become a paid professional Life Coach. Every colourful event you've lived through now has HUGE VALUE as 'an experience'. Any mistakes you made can become helpful stepping stones of guidance for the people you coach. So nothing you've done was a wasted experience. Think of the School of Hard Knocks as your university. This is a SIX MONTHS comprehensive training programme (HOME STUDY) which leads to a diploma qualification. Graduates may put DipLC after their name. There are six units to the programme. You can take less than six months if you are able to devote more than five hours a week to your studies. Assignments include practical exercises in the real world. All students seem to enjoy these. You'll also learn how to set up your own business as a professional Life Coach. That means clients pay real money into your bank account.
LifeCoach What prior skills do you need? What fees should you charge? How do you promote yourself? Can you work from home? Can you have clients worldwide? (Yes.) This training course is extremely thorough and covers all of these questions, plus lots more. Even questions you don't know to ask. Everything is included in the course fee.
Phil Linklater, your Life Coach Tutor has managed sales teams, was a sales and management staff trainer and is experienced in marketing, packaging, commercial property, horticulture import/export, and small business development. He was the consultant called in to implement creative and innovative management solutions when clients had problems. His business communication background includes trade negotiations with businesses in Asia and Europe.

Phil is a qualified Life Coach, master practitioner of NLP (NeuroLinguistic Programming), and is a Reiki Master. Phil works closely with individuals and small-medium business owners.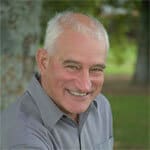 Phil Linklater
.

"The passion I have experienced throughout doing these assignments has been so rewarding to me as an individual. I have learned so much and now I look forward to the next stage of my journey. I am growing so much as a person and the direction I am embarking on is very exciting. Thank you, tutor Phil and NZIBS, for creating this Life Coaching opportunity and for enriching my life."

Francesca Williams, Nelson

.

"Some of the things I learned while doing my NZIBS Life Coach training course:

-A prompt response means you care, you show respect and you make the other person feel valued.
-Knowing and using the other person's name is vital. It gives them a feeling of personal security and establishes rapport.
-Because first impressions count, I learned the value of a 'Meet & Greet Plan'. Now I use it every time.
-I learned how showing respect pays a regular deposit into the other person's Self-Esteem Bank.

I've learned how to operate my Life Coaching as a proper business."

Rena May Hough, Chatham Islands

.

"I already have an established Life Coaching business as I've been practising for 25 years. I am in the process of re-launching myself as a global business, hence I am doing this NZIBS course as my refresher training. I have dramatically influenced the lives of 16,000 people from all walks of life, in different cultures and in many countries. I have been consulted by a prime minister, cabinet ministers, celebrities, business people, plus regular mums and dads. I have developed a system which allows a client to learn about themselves, plus how and why they react the way they do. I show them how to change their thinking and therefore their lives." 

-Riccie de Brouwer, Auckland

.

"During my training I moved from Christchurch to Adelaide. No problems as my course moved with me.
I found this course a lot more streamlined than what I imagined. It tied together nicely all the bits of information I have learned over the last 18 months."

Ayden Marsh, was Christchurch, now Adelaide

.

"This Life Coach training course has given me confidence and the assurance that I have the skills to incorporate Life Coaching into my Personal trainer business. I love my work and I am good at it."

Kaye O'Neill, Tauranga

.

"This Life Coach training course has given me confidence and the assurance that I have the skills to incorporate Life Coaching into my Personal trainer business. I love my work and I am good at it."

Kaye O'Neill, Tauranga

.

"I graduated from the NZIBS training course with a Life Coaching diploma (Merit grade), and have been immensely enjoying practising in my own business. I wrote to you earlier telling you I am now a Life Coach for a major Maori Social Services organisation – which is very exciting. It seems all concerned are excited too, because I have added Life Coaching to the list of therapies available to their clients."

Dawn Headey, New Plymouth

.

"Over the past four months I have had a wonderful new world opened up to me. I have learned so much and I have been introduced to many extremely inspiring and motivating people. I look forward to continuous personal development and forever growing my knowledge base, enabling me to successfully motivate and guide others to realise THEIR dreams. In doing so I will be doing what I love and loving what I do."

Dee Stevens, Tauranga
More Testimonials
Complete the short form below to download the prospectus.
The Enrolment Application is contained within the download and is also available online.
Please email ([email protected]) or call if you have any questions. Toll Free: 0800 80 1994 International: +64 9 272 3974.
We have been operating for more than 25 years and have thousands of graduates all over the world. Our courses are conducted by correspondence. You decide when and where you study. The course material (including books) is sent to you, and you submit your assignments regularly. You don't have to take time off work or travel to classes.